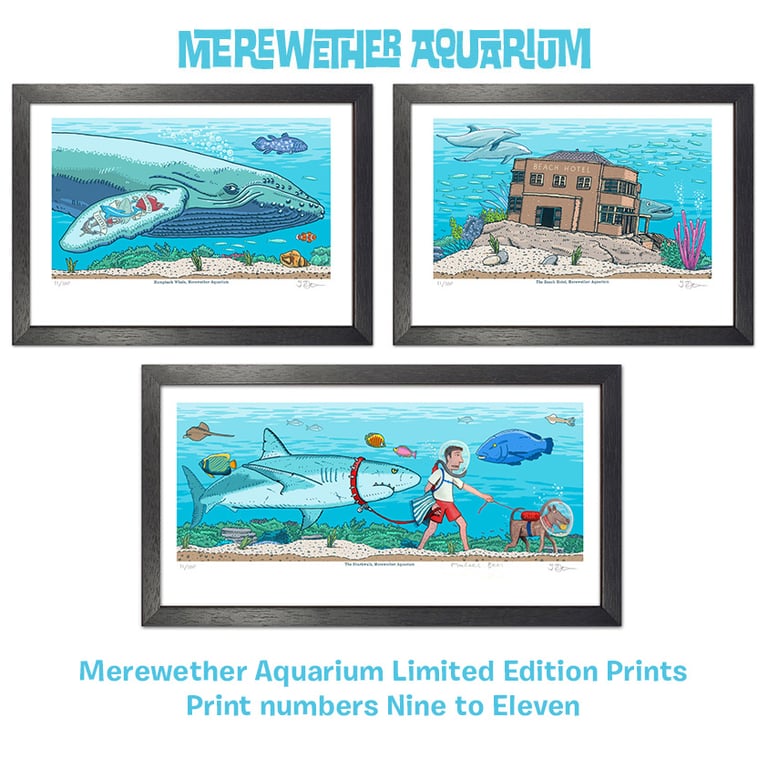 3. Merewether Aquarium A4 digital prints Nine to Eleven
Signed, limited edition, A4 (210mm X 297mm) digital prints based on The Merewether Aquarium Mural.
The mural was painted 2014 and is located in Ridge Street, Merewether 2291.
The prints are sold individually so please select your choice.
Print 9. The Beach Hotel
Print 10. The Humpback Whale.
Print 11. The Sharkwalk, incorporating part of Michael Bell's original Merewether mural
Please note; Print 11, The Sharkwalk, isn't A4, it's bigger.
This print is A3 length but has been hand cut to A4 in height (210mm x 420mm) to match the rest of the series.
These artworks were created from the original mural plans and have been adapted to be seen as separate pieces or in sets.
They are high quality archival prints and strictly limited to an edition of 100 all signed and numbered by Mister Trevor Dickinson.